While taking your dog for a walk a trainer will introduce a new obedience command to them each day. This provides a more scheduled routine and is great for puppies who are left home alone all day and need a potty break. This type of training provides mental and physical exercise.
• Stay
• Come
• Heel with Automatic Sit
• Sit and Down (at your side)
• Sit and Down (from a distance)
• Heel with Automatic Sit
• Leave It (Advanced)
• Place (Advanced)
• Wait (Advanced)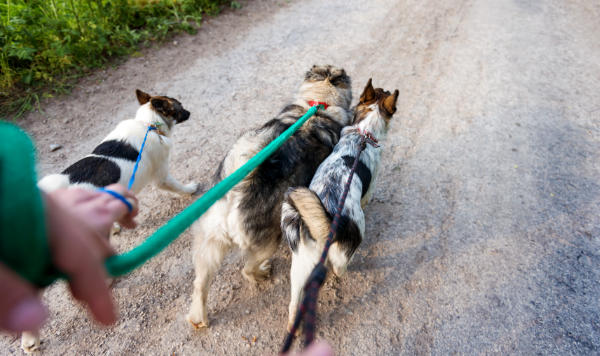 Please see bottom of page for pricing.
This program includes the basic and advanced commands while your dog remains on leash. If your training goals include fixing specific behavior problems like – barking, jumping, or leash manners, this is a great time to work on those too!
Requirements: Free evaluation
Details: A trainer will leave a report card for when you get home. This will include what your dog learned that day and other helpful training tips!
Additional fees will apply if you would like your dog to be trained with an e-collar. Pawsitive Behavior does not supply e-collars, but we will recommend what to buy based on your dog's size and temperament.
Needed supplies: 6 ft. leather leash / proper training collar / valuable reward
You and your dog will need to practice at home at least 20 minutes two times per day between scheduled walks for training to be successful.
structured walk
30 minutes – $30 per dog
15 minutes – $15 per dog
To keep all our dogs safe, a current vaccination record from a licensed veterinarian is required for any service provided by Pawsitive Behavior. A dog will not be accepted for any program if records are not up-to-date and on file. Dogs should be free of parasites and on a flea and tick preventative.
All dogs are required to be in good overall health and have the following vaccinations:
5-in-1 DA2PP w/Leptospirosis / Parainfluenza (Bivalent Series) / Bordetella / Rabies
Negative Fecal Test in the past 12 months is required for all daycare dogs.